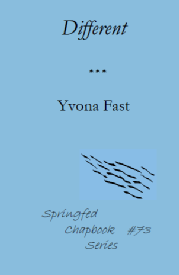 Yvona Fast's poems have appeared in Farming Magazine, The Poeteer, Oswego Alumni Magazine (online), Weekend Poets of Pyramid anthology (2015 and 2016), and Perspectives, Poetry Concerning Autism and Other Disabilities, vol.1. In 2016, she brought PoemVillage to Saranac Lake. She has written a weekly food column for the Adirondack Daily Enterprise and Lake Placid News since 2005, is the author of 3 books (Garden Gourmet: Fresh & Fabulous Meals from your Garden, CSA or Farmers' Market; Employment for Individuals with Asperger Syndrome or Non-Verbal Learning Disability: Stories and Strategies; My Nine Lives), and has published over 200 magazine articles. More at http://www.wordsaremyworld.com.
Yvona (aka Yvonne) Fast is a graduate of Jamesville-Dewitt High School, SUNY Oswego (BA), and SUNY Geneseo (MLS). She currently resides in the northern Adirondacks, where she is a member of the Adirondack Center for Writing.
To purchase, visit the distributor's website.